The curr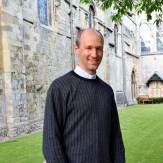 ent Trustees are delighted to announce that Reverend Thomas Wharton, Vicar of Romsey, has agreed to become a Trustee of Triangulate, continuing the Abbey's close involvement with the charity's mission.
Triangulate, now in its 10th year, was set up to raise awareness of the need for positive mental health approaches in the workplace. Over the years it has produced and distributed thousands of leaflets to individuals and businesses, both locally and nationally. Its remit has covered speaking with businesses, running training sessions, being a member of Romsey Chamber of Commerce and signposting individuals to professional sources of support.
The Abbey has been central to all that Triangulate has achieved, continuing to host a permanent stand from where resources and information are always available. An Annual Mental Health Sunday has been at the forefront of our commitment to providing a space where mental health is considered equal to physical health and where the stigma and discrimination so often associated with mental health is challenged.
As a keen runner Thomas has already signed up for the team jointly entered by Triangulate and Romsey Abbey in the Rotary Relay Marathon on 12.05.19.  Exercising Spirit and Mind has entered a team every year since the event's start and is pleased to support this popular community event.