We are delighted to hear the news that Richard Frost has been appointed an MBE – see details below. Richard has been a key supporter of Triangulate over many years, taking part in many of our events, visiting us in Romsey several times and always available for guidance and support. Triangulate continues to work in partnership with Mindful Employer.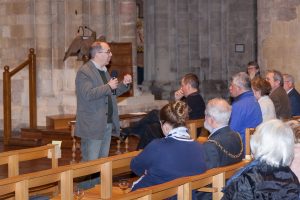 Richard Frost, an Employment Specialist with the Trust's Workways service, has been appointed a Member of the Order of the British Empire (MBE) for his services to mental health in the Queen's Birthday Honours 2018.
Richard leads a team that provides support for people whose mental health affects their ability to stay in work. He also leads the UK-wide MINDFUL EMPLOYER scheme, which provides information and support for employers in recruiting and retaining staff who experience mental ill health. Since it began in 2004, MINDFUL EMPLOYER has spread throughout the UK and is also operating in Australia, Canada, Greece and New Zealand.
Commenting, Richard said:  "I feel deeply honoured and humbled to have been appointed as an MBE.  It is also a real tribute to the many people I have endeavoured to support over the years, my colleagues at Workways and the hundreds of employers who have committed themselves to supporting what we do."
Melanie Walker, Chief Executive of Devon Partnership NHS Trust, said:  "Richard personifies everything that is good about the NHS.  Over a long career he has displayed unerring dedication to supporting and enabling people with a wide range of needs – and his work has had a profound and positive impact on the lives of many people and their families. He was instrumental in creating and launching MINDFUL EMPLOYER – which is now a global scheme.  His MBE is thoroughly deserved and, on behalf of our Board and all of our staff, I offer him our heartfelt congratulations."
Devon-born and currently living in Dartington, Richard has worked in the field of employment since 1979, specialising in helping people with disabilities. He has worked in mental health since joining Devon Partnership NHS Trust in 2002, although his interest in this area dates back many years – due in part to his own personal experience of depression.
Richard is a lay minister in the Church of England where he serves with his wife, Jane, a Curate on the Totnes Team. He graduated with an MSc Vocational Rehabilitation through Sheffield Hallam University in 2012.
Posted by Devon Partnership Trust 09.06.18