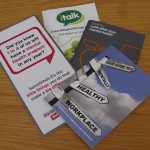 Triangulate recently attended a meeting of the Whiteley WAGS Women's Institute group to give a talk about its work and the importance of making Time to Talk and to listen to people around us.
The talk focused on the impact of having conversations with people, both in and out of the workplace, and how we can all share in this and make a difference.
It was such a pleasure to meet the members and to be able to give out lots of materials for them to use in future conversations.