Triangulate is pleased to support the latest Rum's Eg exhibition. Dovetail – on show both at Rum's Eg and Romsey Abbey from 5th August – 6th September showcases the beauty and warmth of wood in furniture, sculpture and functi0nal pieces.
Bridget Brook, Trustee of Triangulate, explained that this was a great opportunity to support Rum's Eg and the Abbey.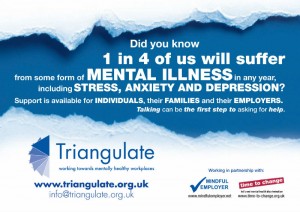 A new poster had been designed for insertion in the exhibition catalogue which would be used in future in promoting greater awareness of positive mental health to a wider audience.
Bridget continues: 'We've also been talking with Rum's Eg recently on how we can work on future ventures to promote mental wellbeing through the use of the arts'.
For more information on the Dovetail exhibition visit: http://www.hampshireartandcraft.org/